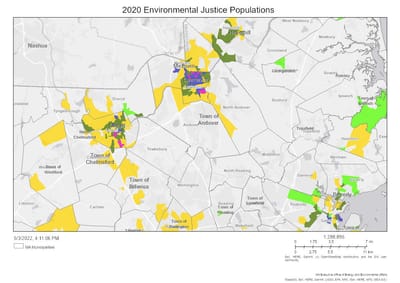 What is an Environmental Justice Population? In Massachusetts, a neighborhood is defined as an Environmental Justice population if one or more of the following four criteria are true:
1. the annual median household income is not more than 65 per cent of the statewide annual median household income;
2. minorities comprise 40 per cent or more of the population;
3. twenty five per cent or more of households lack English language proficiency; or
4. minorities comprise 25 per cent or more of the population and the annual median household income of the municipality in which the neighborhood is located does not exceed 150 per cent of the statewide annual median household income.
Check out the map. The minority areas in Towns versus cities are few and far between.
Royal Crest has a large minority population and there are 350-400 households that will be impacted if the rezoning passes. These are our neighbors. Your children went to school with them or they sold us girl scout cookies. They played sports in town, attended dances, the parents were coaches. They've supported our small businesses. They've contributed to the Town and are part of our community.
The zoning will have a direct impact on this environmental justice population and these will be their options.
They'll be allowed to move from building to building as the site is redeveloped and live with ten years of construction noise and dirt.
They'll be moved out by exorbitant rent increases so the developer can say they didn't want to stay.
After it's completed and they've bounced around for years and put up with the construction - they might be lucky enough to be able to afford one of the new rentals which will likely cost 30% more.
The money being offered to the Town is not free. It is rezoning that will be a precedent setting elimination of a minority population area and constructive eviction of our neighbors. We can come up with a better plan.